Why you should sign up for the California Superbike School course?
because the levels of CSS are the most effective program for raising motorcycle riding skills in the world. We are sure that it will also work in your case!
because there is no better investment than investing in yourself! CSS courses are the best relation between the incurred expenditures and the obtained training effects.
California Superbike School has nearly 40 years of experience in professional training of motorcyclists. We are the best coaches, lecturers and we have best teaching program in the world.
because there is no greater joy of riding a motorcycle than riding in corners. California Superbike School specializes in raising the joy of riding a motorcycle on winding roads and racetracks!
because the success of the school is not the result of brilliant marketing, but it comes from documented achievements of its students and the progress of our students. The pupils of the school are Leon Camier, James Toseland, Roger Lee Hayden, Thomas Lüthi, Chris Vermuellen, John Kocinski, Scott Russell, Wayne Rainey and many others ...
/
Individual Teaching Levels at California Superbike School is the most effective set of exercises developed for learning motorcycle riding techniques. We use it in a traditional way - step by step. The training is prepared so that you understand what is happening with you and the motorcycle when you ride it. During the training you will learn not only what and how to do while sitting behind the bars, but you will also understand what you should avoid doing. Your riding will become faster, more confident and safer regardless of the level you are on. By acquiring solid theoretical knowledge and supporting it with effective practical exercises, you acquire skills that you will use on every road and on every track.
//
Faster, smoother, more confident - this is the leitmotif of school in learning to tame corners. Every motorcyclist on the CSS training gets tools, support and conditions to learn how to ride better and safer. You will achieve great effects regardless of which motorcycle you use on the road or on the track.
///
Riders with sports ambitions can, thanks to experienced trainers, very quickly make progress on which they would have to work for months themselves, incurring enormous amounts of time, money and resources. Coaches at school offer not only practical knowledge, but are able to answer any doubts and questions related to technical and mental issues related to riding a motorcycle.
////
Electronics will never replace the rider! If your motorcycle is equipped with advanced driver assistance systems (traction control, electronic vehicle stabilization, ABS, etc.), this means that the motorcycle designer has assumed that you can use a motorcycle. The electronics work correctly when the driver uses the motorcycle correctly. By improving your riding skills you enable better use of the full potential of your machine!
California Superbike School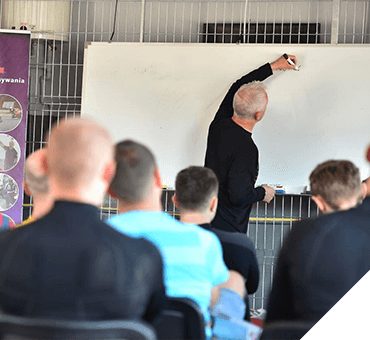 Why CSS?
Because we only employ professional teachers with many years of experience, who with care for safety and precision will infect you with a sincere passion for riding a motorcycle.
Check >>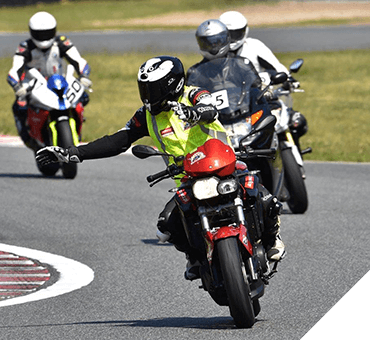 How we teach?
We effectively carry out our students through four successive levels of teaching, gradually increasing the intensity of the exercises, which allows you to maximize the benefits.
Check >>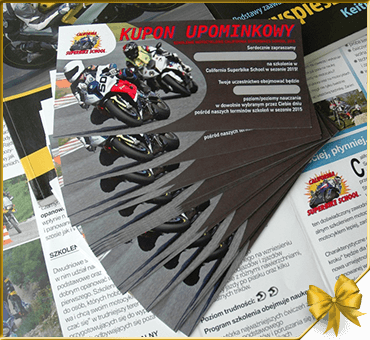 Voucher for a gift
We also offer an option of gift vouchers with a complete set of information about the school, which remain valid for up to 12 months from the date of purchase.
Check >>